Everything You Should Know About Injection Foam Insulation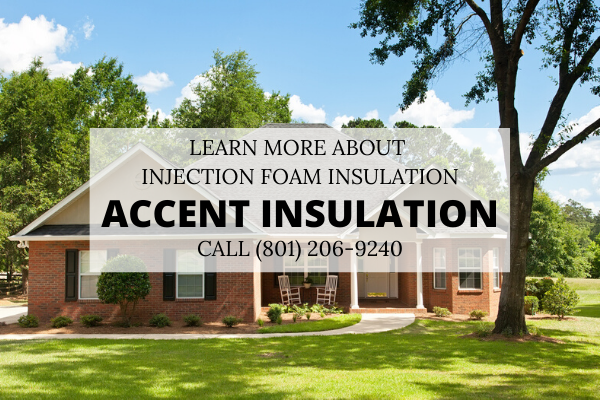 Home Insulation in Ogden UT: The Injection Path
Are you interested in injection foam insulation in Ogden UT? If your answer is yes, then get started with Accent Insulation. Injection foam insulation, in a nutshell, is masonry foam, and it functions as an obstacle to air. It is also simultaneously an insulating component. What exactly does injection foam accomplish, anyway? It is designed to close up openings that are part of walls and it is designed to protect openings from the hazards of heat and the motion of air.
Why You Should Think About Getting Ogden UT Injection Foam Insulation
Getting injection foam insulation in Ogden UT can be favorable for you in many meaningful ways. First, this kind of insulation is highly effective for closing purposes. It can be appropriate for everything from ceilings that are sloped to the walls of crawlspaces. If you are searching for insulation that is fitting for block walls or anything else similar, then injection foam could be a great choice.

Second, injection foam insulation is also beneficial for the planet. If you are interested in residential insulation that won't harm the environment, then injection foam may be optimal for you because walls that have insulation minimize energy intake dramatically. That is how they minimize any troubling emissions that are related to structural cooling and heating matters.

Third, injection foam insulation can help reduce outside noises and noises between rooms. If you are interested in insulation that can keep your living space tranquil and quiet, then the injection foam route may be the way to go for you.
Reasons to Team Up With Accent Insulation for Your Ogden UT Injection Foam Insulation Requirements
Accent Insulation a full-service company that regularly installs five-star insulation. They regularly do so for older residential properties that are made using brick. If you reside in a brick property, then their insulation help may be precisely the thing that you need in your home. Their team members are well-versed in all kinds of insulation installation requirements. They're hard-working, diligent and detail-oriented professionals who utilize five-star insulation installation methods and tools. If you want assistance with home insulation in Ogden UT, your options don't get any better than their credible business.
Contact Accent Insulation to Get a Complimentary Estimate
Do you want to revel in the perks of injection foam insulation installation in Ogden? Call Accent Insulation at any time to find out more about their insulation specialties and to receive a complimentary estimate.