Radiant Barrier Specialists in Ogden, Utah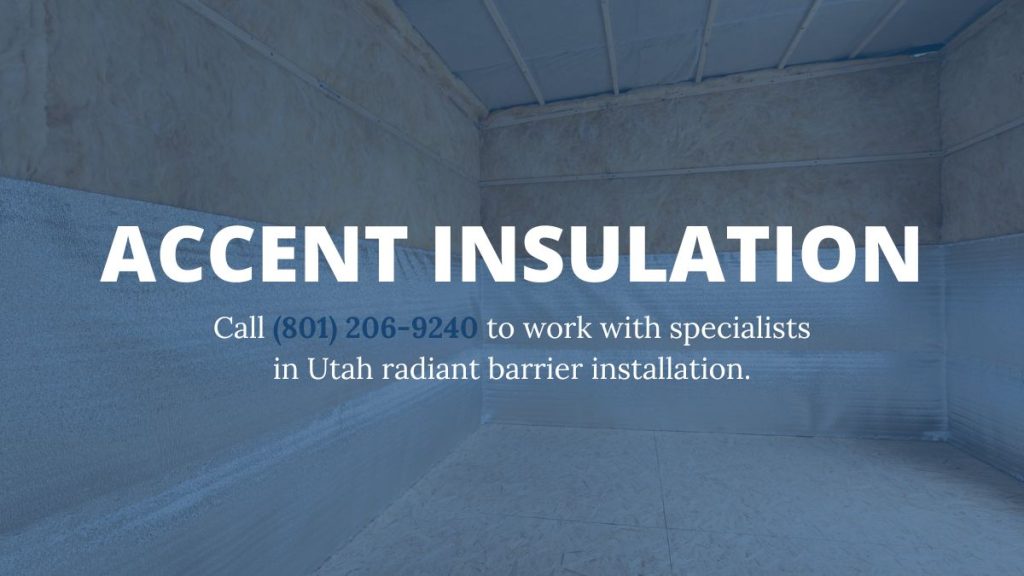 Experts in Radiant Barrier Installation in Ogden, Utah
Accent Insulation offers a wide range of insulation services at reasonable costs, including Ogden UT radiant barrier installation. Customers may count on their trustworthiness and expertise to assist them in getting the ideal quantity of insulation for their property.
For retrofit or older homes, insulation is Accent Insulation's area of expertise, and their talented team offers reliable, long-lasting insulation products for walls, attics, and crawl spaces.
Many Insulation Choices
In Ogden, Utah, there are numerous varieties of housing insulation,and this reputable business provides fiberglass, spray foam, injection foam, and blown-in attic insulation.

Accent Insulation is also a certified Radiasource dealer and specializes in installing Advance R-Shield in residential buildings.
Superior Materials
This company's materials have undergone extensive testing and have received building code approval. Home insulation in Ogden can deliver the most significant outcomes when homeowners are looking for a high-quality option.
Reduced Energy Costs
Customers who select a trustworthy company as their go-to provider of Ogden UT radiant barrier will appreciate experiencing monthly energy bill reductions. Customers will have a more energy-efficient home thanks to the added radiant barrier.
Smart Decision
Customers can feel good about making a wise decision for their home and wallet by choosing a respected company. By creating an investment in quality home insulation in Ogden, a homeowner can relax in the knowledge that their heating and cooling system won't have to work as hard to maintain a home's ideal temperature all the time.
Why Do People Hire Accent Insulation?
Accent Insulation's only objective throughout home insulation projects is to offer customers commercial-grade insulation solutions. Having been in the insulation business for many years, they have established a firm name by providing the best goods and qualified services. For more information about Ogden UT radiant barrier, visit www.accentinsulationutah.com.